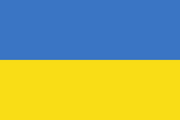 Ukraine is a country in Eastern Europe. It borders Russia to the east, Belarus to the north, Poland, Slovakia and Hungary to the west, Romania and Moldova (including the disputed territory of Transnistria) to the southwest, and the Black Sea and Sea of Azov to the south. The capital of Ukraine is Kiev. According to the World Bank classification, Ukraine is a middle-income state.[1] The official language of Ukraine is Ukrainian. It is a former member of the Soviet Union.
References
Ad blocker interference detected!
Wikia is a free-to-use site that makes money from advertising. We have a modified experience for viewers using ad blockers

Wikia is not accessible if you've made further modifications. Remove the custom ad blocker rule(s) and the page will load as expected.