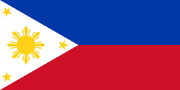 The Philippines, officially known as the Republic of the Philippines (tagalog: Repúbliká ng Pilipinas) is a country in Southeast Asia with Manila as its capital city. It comprises 7,107 islands in the western Pacific Ocean.
The Philippines is the world's 12th most populous country, with an estimated population of about 92 million people. Its national economy is the 47th largest in the world, with an estimated 2008 gross domestic product (GDP nominal) of over US$ 168.6 billion (nominal). It is estimated that there are about 11 million overseas Filipinos worldwide, equivalent to about 11% of the total population of the Philippines.
A former colony of Spain and the United States, the Philippines is one of two predominantly Roman Catholic countries in Asia, the other being East Timor. There are also a number of minority religious groups, including Islam, Buddhism, Hinduism, and other beliefs. Multiple ethnicities, and cultures are found throughout the islands. Ecologically, the Philippines is one of the most diverse countries in the world.
Ad blocker interference detected!
Wikia is a free-to-use site that makes money from advertising. We have a modified experience for viewers using ad blockers

Wikia is not accessible if you've made further modifications. Remove the custom ad blocker rule(s) and the page will load as expected.