| | |
| --- | --- |
| | One or more of our comrades are still working on this article. If you wish to make major changes, please let the editors know. |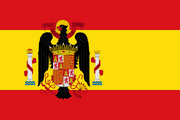 Francoist Spain was a period of time in Spanish history when Spain was under the Fascist[1][2][3][4][5] rule of the Falange[6] and Francisco Franco. Now, Falange wants to bring Spain back to Fascism and Francoism[citation needed].
The regime often persecuted people for not speaking Spanish[7].
References
Ad blocker interference detected!
Wikia is a free-to-use site that makes money from advertising. We have a modified experience for viewers using ad blockers

Wikia is not accessible if you've made further modifications. Remove the custom ad blocker rule(s) and the page will load as expected.